Today I'm sharing my review of My Picture to print a photo canvas and their Mixpix to create a magnetic gallery wall.
If you're interested in any of the products I'm sharing, you can order them on MYPICTURE.co.uk using my 15% off discount code – THETRAVELHACK15
This 15% off code is in ADDITION to any other other current discounts on the site!
****
I love displaying my family photos and holiday pictures around my home. For me, nothing looks better than a wall filled with happy memories and smiling faces.
I've got photos everywhere but, I've got to admit, creating a gallery wall is a bit of an effort!
You've got to put nails in the wall, worry about pipes and wires behind those nails, line them all up perfectly, print photos, get the perfect frames.
I end up with bare walls and picture frames on the floor for months before I actually end up putting them up!
For this reason, I've been considering a magnetic gallery wall for years.
The wall up my staircase has been blank since I moved in eight years ago! It's awkward to hang photos here because I can't reach the higher places and wouldn't want to put a ladder on the stair case, so a magnetic gallery wall is the perfect solution for a modern staircase gallery wall.
I don't know why it's taken me so long to do it but I've just made one using  Mixpix from My Picture.
I printed out 24 of the 20cm x 20cm lightfoam tiles.
The MAGNOFIX magnetic hanging system is included in the price and this is a square magnet that sticks to the back of each foam tile and then one to your wall.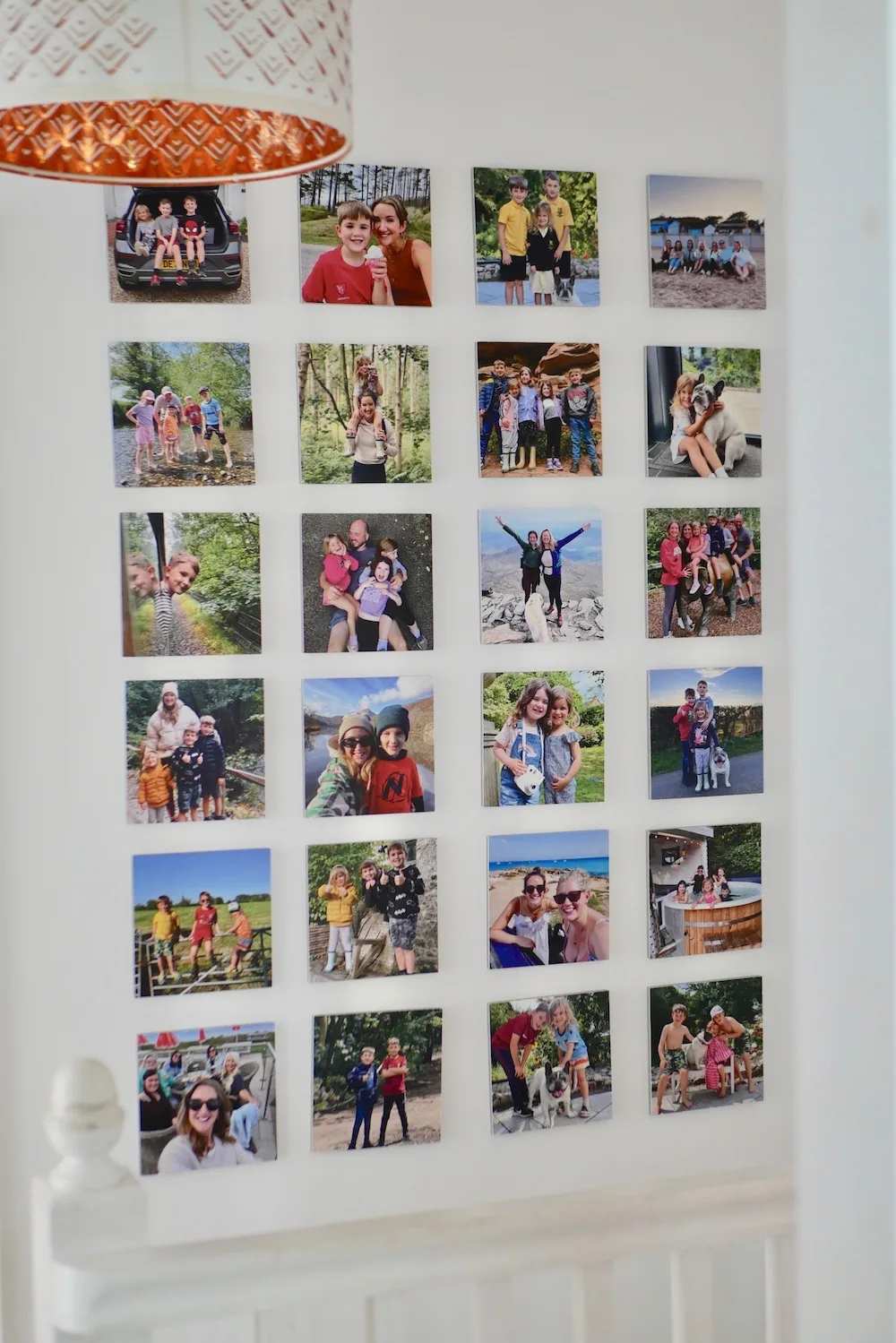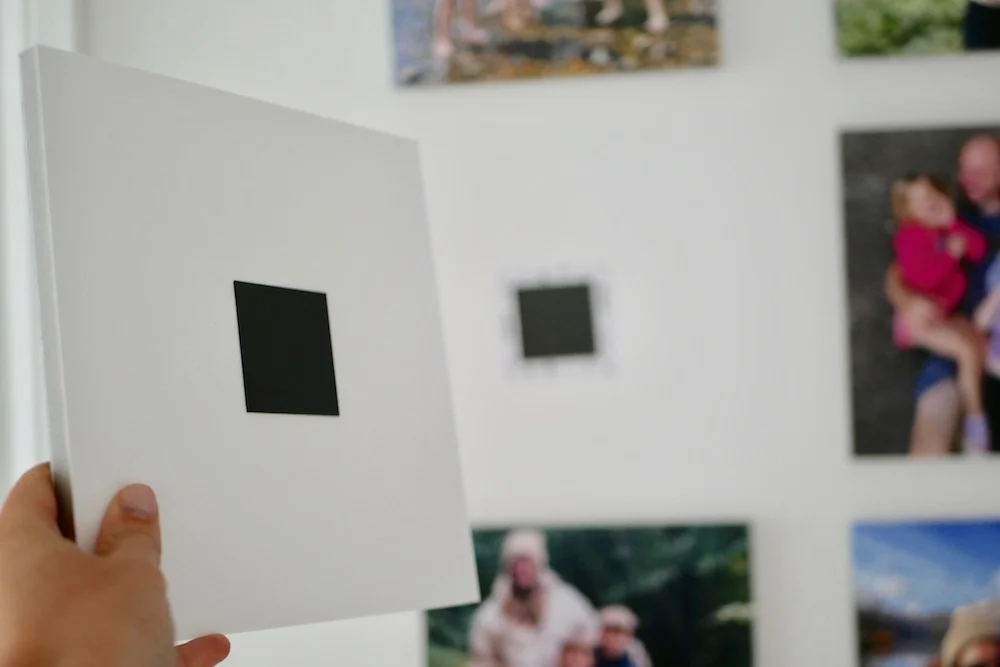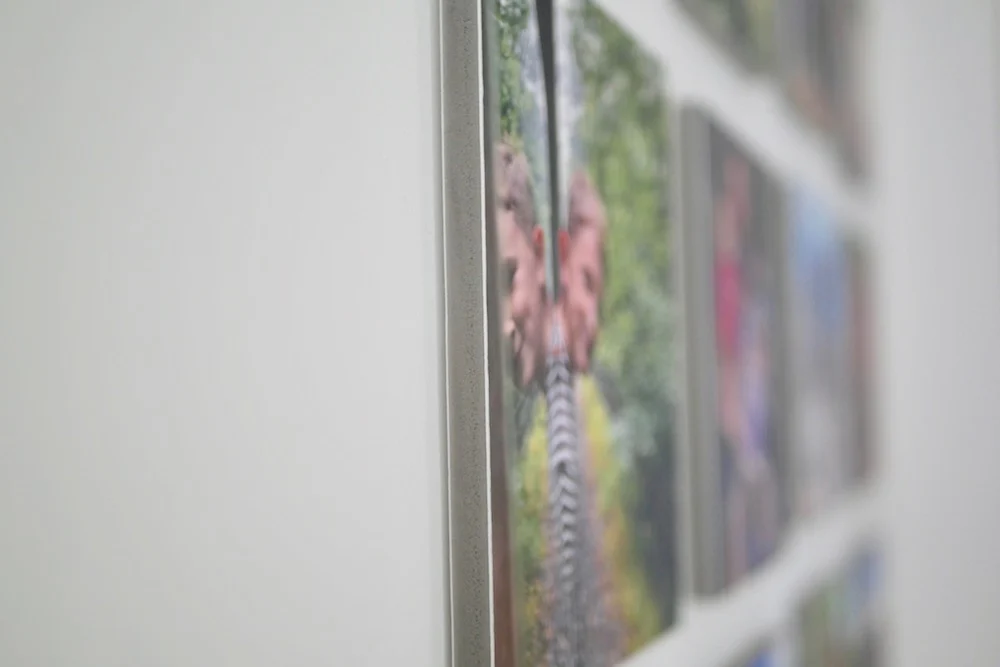 Hanging the magnetic tiles
I thought it would be much more difficult than it was to hang these tiles. I was worried I'd put the magnets in the wrong place and my magnetic gallery wall would be wonky.
I didn't need to worry, it was so easy.
I didn't use a tape measure or a level to get it perfect, I just stuck mine to the wall by eye and I think they've turned out really well.
The reason you don't need to worry is because it doesn't matter if you don't stick the magnets perfectly.
The foam tiles don't need to sit perfectly on the square magnet so you can put the magnets together on an angle. They don't need to line up corner to corner to stick to the wall.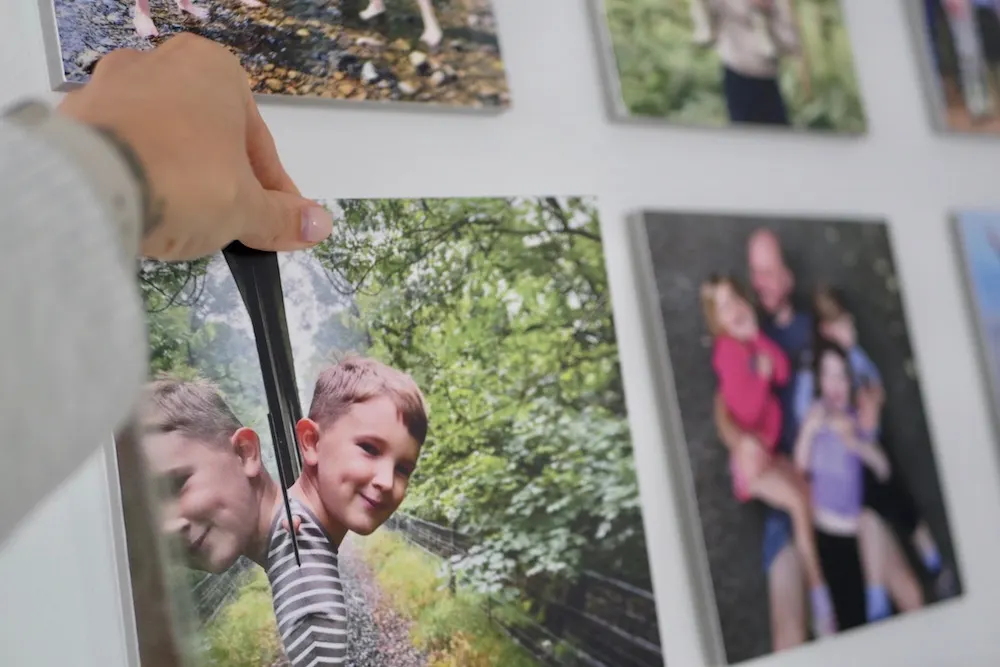 Tips for printing your tiles
I cropped my photos into squares using the photo editing tool on my computer. You can crop them on the My Picture site when you upload them but I prefer to do it before so there's no way it can go wrong.
Don't use overly edited photos or photos with heavy filters. A slight tweak to the exposure is fine but the quality will drop with heavy editing.
All of mine were iPhone photos and I'm really happy with the quality.
It looks best when you place similar coloured photos together. I take most of my photos outdoors so there are lots of browns and greens and natural colours in my pictures.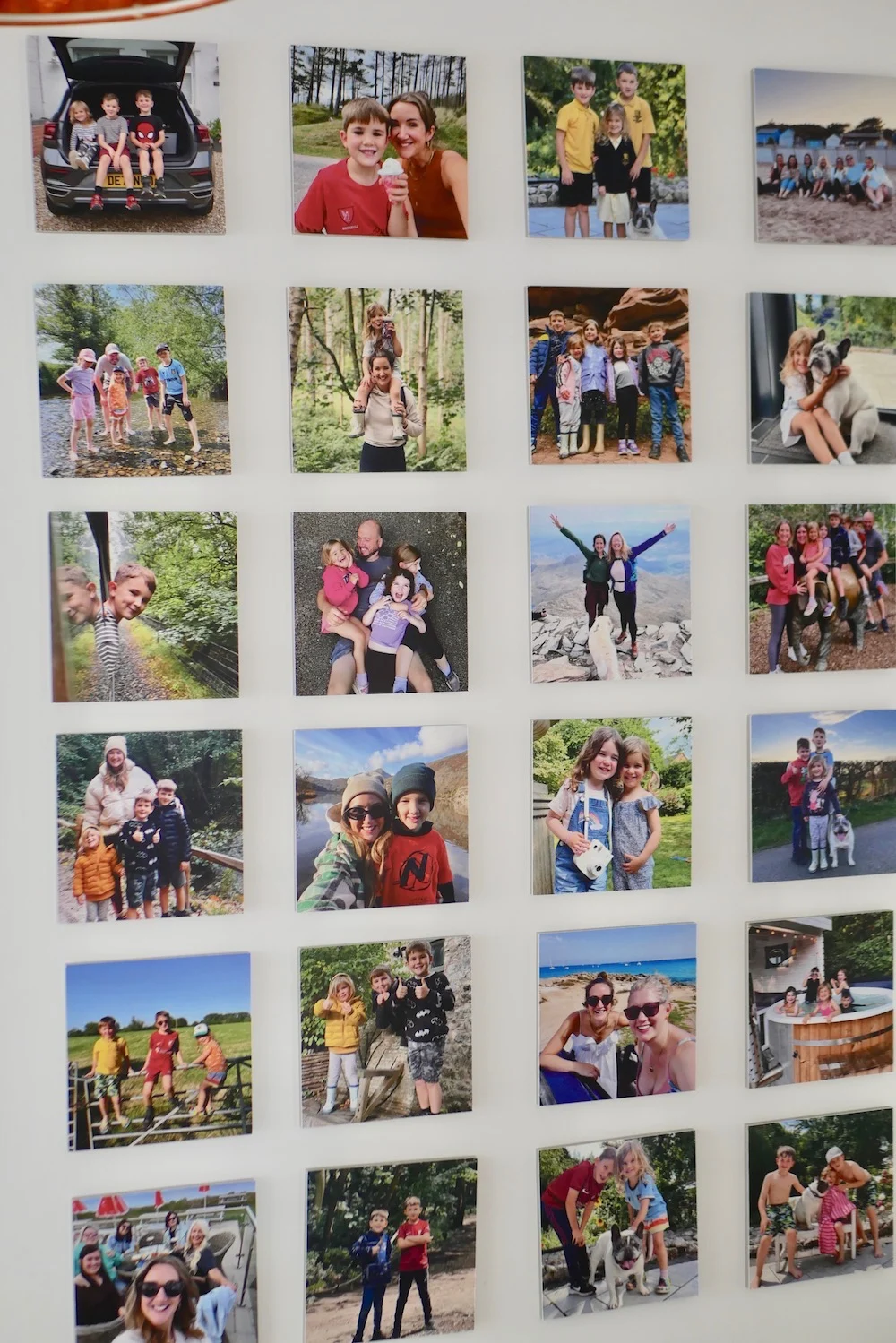 Benefits of a magnetic gallery wall
There are lots of benefits to creating a magnetic gallery wall over a traditional gallery wall with photo frames:
No need to put nails in your walls – great for renters or anyone who just doesn't feel comfortable hammering nails into walls!
They're easy to hang so virtually anyone can do it
It's easy to move them around and replace with new ones
They're very affordable (currently £5 each with free shipping when you order nine)
It's quick to hang them. I hung mine in about 45 minutes.
It's less overwhelming to choose lots of small photos rather than 2-3 big ones
Because they're small, the quality of each photo doesn't need to be as good
Lots of little photos creates a big impact
It's mesmerising to have a wall of photos like this. When people visit they can't help but stand and stare at them
You can add frames to your tiles for a higher quality look (currently £9 for a frame – reduced from £24)
It would be easy to paint over/around the magnetic stickers if your painting your walls
The MAGNOFIX magnetic hanging system sticks to virtually any surface so it's not just for plain, painted walls.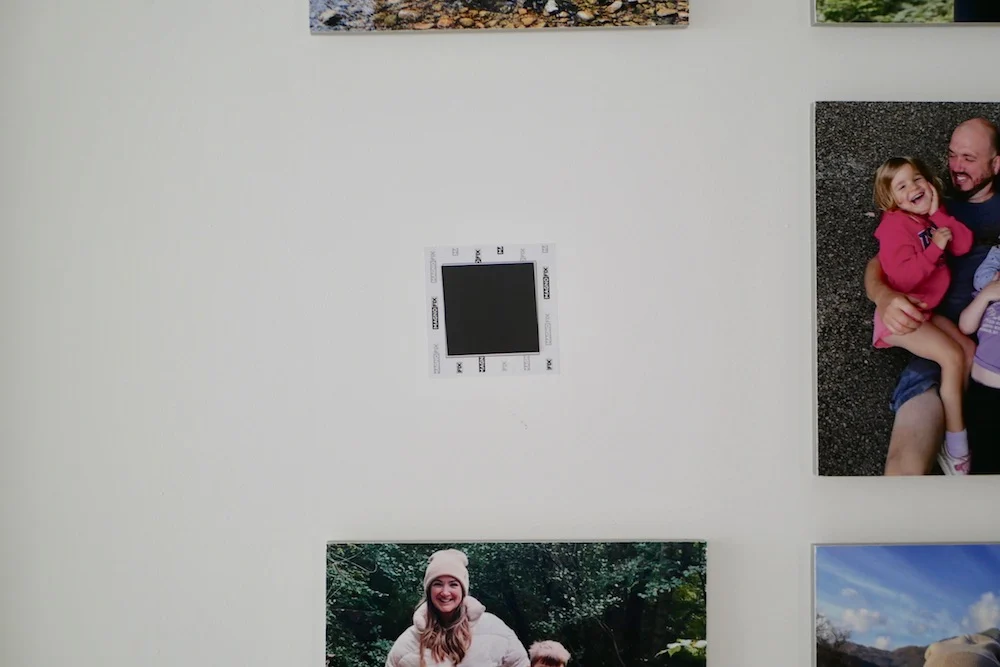 Will the MAGNOFIX magnetic hanging system ruin the walls?
I haven't taken the MAGNOFIX magnetic hanging system off yet so I can't say for certain.
I'm pretty sure the magnetic stickers will pull the paint off the wall and they'd definitely rip your wallpaper, but they wouldn't pull any plaster off so they wouldn't ruin the wall.
Printing canvas photos with My Picture
Aswell as printing the MIXPIX magnetic photo tiles, I also printed a larger photo canvas. I'm really pleased with this canvas too and it's another budget-friendly way to decorate your home.
I'm planning to get a few more of these to fill the large white walls in my bedroom!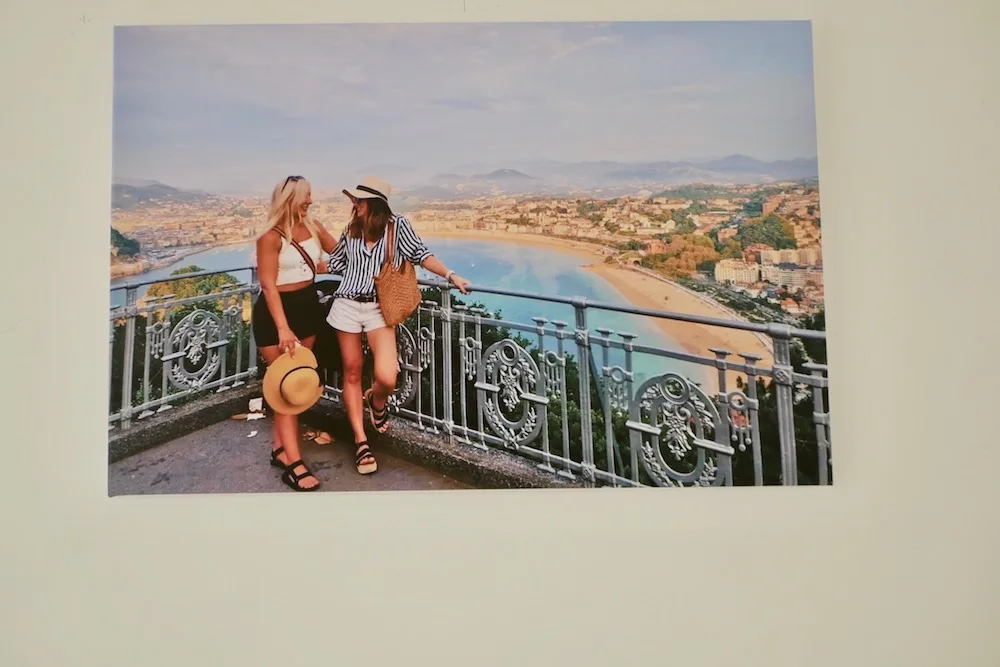 My-Picture.co.uk Review
I'm really happy with the products I've had from My-Picture.co.uk. 
The canvas was great quality and a really affordable price and the MIXPIX magnetic gallery wall was an easy way to create a gallery wall.
I love my magnetic gallery wall so much that I'm even planning to create another one in my kitchen! 
My-Picture.co.uk discount code
Don't forget, you can a further discount on MYPICTURE.co.uk using my 15% off discount code – THETRAVELHACK15.
Code is valid until 31.12.23 and this 15% off code is in ADDITION to any other other current discounts on the site!