Embark on a mystical journey through stunning landscapes as we unveil the best Sedona Vortex hikes that will connect you with the powerful energy of this enchanting Arizona destination.
The Sedona Vortex is where energy lines converge and are thought to have healing properties. There's a better explanation of the Sedona Vortex below and our feeling about it, but I'm just sayin' we instantly felt amazing in Sedona.
We did these Sedona Hikes in December and had a chance to experience Christmas in Sedona with all the sparkly lights filling this beautiful red rock town.
Maybe the good vibes were all about the Vortex or just from good old-fashioned Christmas cheer. Either way, we put together this guide to the Vortex hikes in Sedona so you can find out for yourself.
This site uses affiliate links, meaning if you make a purchase through our links, we may earn a commission. You can read our full disclosure policy here.
Planning Your Trip to Sedona Last Minute? Here is a quick guide to the tours and hotels we recommend.
Get more Arizona travel ideas on our 20 Best Places to Visit in Arizona for Your AZ Bucket List or Everything You Need to Know About Hiking the Wave in Arizona. For a huge list of cool things to do in the USA, check out 60 USA Bucket List Trip Ideas.
TOP EXPERIENCES & TOURS IN SEDONA
BEST HOTELS IN SEDONA

Enchantment Resort (8.9) – stunning views of Boynton Canyon and access to hiking, biking, and golf.
L'Auberge de Sedona (8.6) – a serene, well-located resort with beautiful rooms. A bit of a splurge.
Arabella Hotel Sedona (8.5) – We booked a last-minute stay here and the location is so convenient!
What is an Energy Vortex?
Sedona is known for having something called an energy vortex, which is a swirling center of energy. There are multiple places around Sedona that are supposed to have vortexes. Sedona itself is one big center of energy and healing.
If that sounds kind of woo-woo to you, it does to me too. But, seriously, there is something about Sedona that feels good. You can't help but feel happy and energized there.
It had been years since we had visited Sedona. I honestly don't remember hearing anything about the Vortex at that time.
The Sedona Vortex was discovered in the 1950s by a psychic named Page Bryant. She lived in Sedona when she identified specific energy locations and called them vortexes.
People who physically feel the Vortex describe a tingling sensation or vibrations. Others experience an energy ranging from psychic to excitement. Near a vortex, spiritual healing is supposed to be at an all-time high.
There are other places on Earth that have an energy vortex including the Great Pyramids of Giza, Mount Shasta in California, Machu Picchu, and a handful of others.
---
Is There Scientific Proof of the Sedona Vortex?
While we are pretty much the opposite of new age, we are always open to interesting ideas. It's exciting to have new experiences, especially in beautiful places like Sedona.
From the second we entered Sedona, we felt great. And just like Carrie Bradshaw, I couldn't help but wonder – Is the Sedona Vortex real? And if so, is there any factual proof?
I read articles about the physics of a vortex and new age information about energy vortexes but could not find a scientific explanation or proof of the Sedona vortex.
That said, there are definitely things I believe in that would not pass a scientific test.
So, we set off to do the Vortex hikes in Sedona that would get us closer to the energy lines and energy fields to see if we could actually feel the Vortex, while we explored these beautiful trails.
Vortex Hikes in Sedona, Arizona
Four spots in Sedona are supposed to be the strongest vortex locations. They all happen to be hiking trails – Airport Mesa, Bell Rock, Cathedral Rock, and Boynton Canyon. There is a fifth location included that is a lesser known Vortex site.
If you love getting out in nature, it's a fun assignment to do a bunch of Sedona Vortex Hikes. If you are not a hiker, some of these are easily accessed with a short walk from the road.
Devil's Bridge Trail is not a Sedona vortex hike, but it does have a really cool rock bridge, making it highly popular. The vortex hunting was on hold until we could experience Devil's Bridge.
It's such a fun hike with the best payoff ever. But don't worry, we got to the Sedona vortex hikes later in the day. If you want to hike Devil's Bridge, go first thing to avoid crowds.
RELATED POST: 10 Hiking Essentials to Pack for a Day Hike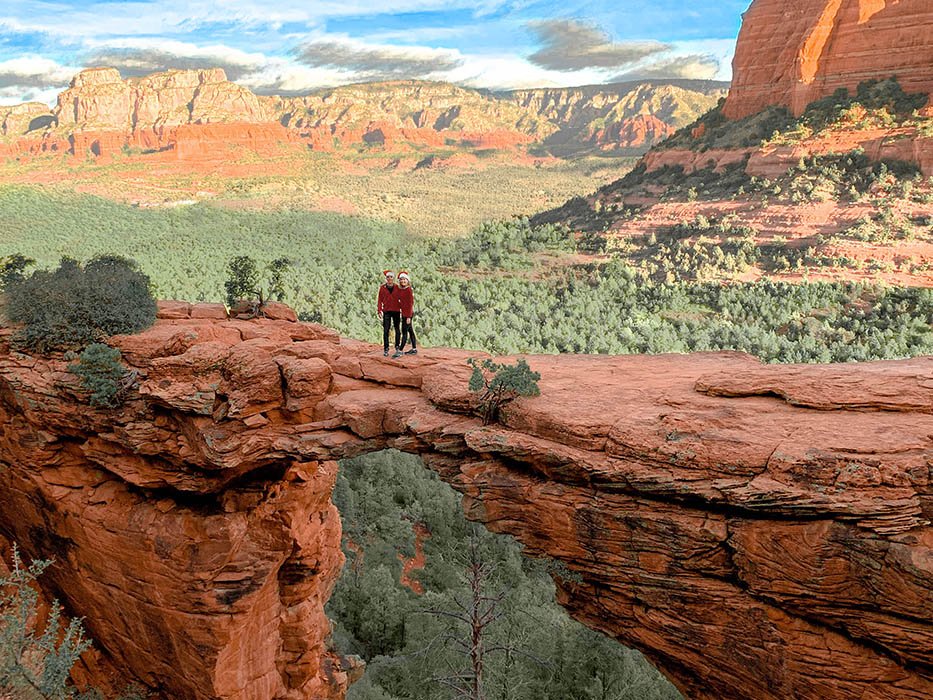 Sedona Devil's Bridge Hike
Hike: 3.9 mile (6.2-kilometer) Out and back
Elevation: 521 feet (159 meters) 
Difficulty: Moderate
Dogs: Yes on leash
Parking: Limited trailhead parking You can purchase a $5 Red Rock Day Pass at kiosk. 
Restrooms: Yes
Devil's Bridge Trail is a 4.2 mile out and back hike. The beginning of the hike starts along a red dirt road. The cool, crisp air and beautiful vistas just made us feel great.
From the base of the trail you head up a moderate incline up with a few spots of rock climbing.
Overall, it's pretty easy unless you have a problem with stairs or balance issues. Even if you don't go all the way up, look back across the incredible valley and take tons of photos.
A couple of tips about the Devil's Bridge hike:
It's very popular. Go as early as you can. We went at sunrise around 7am and it was perfect.
There are approximately 50 parking spots that fill up quickly. If you have a high clearance 4×4, you can park in the small lot by the trail that get's you 0.75 mile closer.
If you have an America the Beautiful National Park Pass, you can use it for free parking.
RELATED POST: The Most Beautiful States in the USA to Visit
Sedona Vortex Hike #1 – Airport Mesa Vortex Site
Hike: 3.3 mile (5.3-kilometer) Loop
Elevation: 380 feet (115 meters) 
Difficulty: Moderate
Dogs: Yes on leash
Parking: $3 paid at kiosk in a limited parking lot 
Restrooms: No
There are a few different trails at Airport Mesa. This is the easiest vortex site to reach because you park your car and walk 500 feet. We went around a small portion of the 3.2 mile Airport Loop Trail.
It has panoramic views around the relatively flat trail but it is rocky and uneven in spots. Be careful with kids.
You'll see plenty of the twisted trees that are supposed to be a sign of the vortex but we didn't feel anything there. One of my mom's friends said she did feel the vortex there.
We did, however, meet quite a few happy Sedona visitors and all had a fun chat about the Sedona vortex. We stayed for a bit to admire the incredible views.
Sedona Vortex Hike #2 – Bell Rock Vortex Site
Hike: .8 mile (1.8-kilometer) Out and back
Elevation: 203 feet (62 meters) 
Difficulty: Moderate
Dogs: Yes on leash
Parking: There are 2 parking lots. The North lot is closer. The South lot adds a mile to the hike. Free parking with America the Beautiful National Park Pass and Red Rock Pass. Or purchase a $5 Red Rock day Pass.
Restrooms: Yes
On our way out of town, we gave the Sedona Vortex one more chance and did a short sunset hike at Bell Rock. The Bell Rock Trail is a 1.1 mile out and back hike.
It's a quick hike up with 318 foot elevation gain that is generally easy because it's short and so worth it. The Bell Rock Pathway Loop Trail is a 4 mile busy trail that gives you panoramic views.
Although we didn't feel the vortex, the Bell Rock hike was terrific. We saw quite a few people mountain biking. Sedona is a nature and adventure lover's paradise.
Sedona Vortex Hike #3 – Boynton Canyon Vortex Site
Hike: 7.2 mile (11.6-kilometer) Out and back
Elevation: 964 feet (294 meters) 
Difficulty: Moderate
Dogs: Yes on leash
Parking: Limited and overflow parking with purchase of a $5 Red Rock Day Pass. 
Restrooms: Yes
Since our trip was a stop on the way back home from Utah, we didn't get a chance to do these hikes but this trip definitely got us excited about Sedona so you can expect a return trip soon.
Boynton Canyon Trail is a 6.1 mile out and back hike that has nice views and wildlife. It's a popular spot so expect it to be somewhat busy.
RELATED POST: 25 Epic Places That Deserve a Spot on Your Utah Bucket List
Sedona Vortex Hike #4 – Cathedral Rock Vortex Site
Hike: 1.2 mile (1.9-kilometer) Out and back
Elevation: 741 feet (225 meters) 
Difficulty: Hard
Dogs: Yes on leash
Parking: Yes but lot is closed from 7:00 am to 5:30 pm Monday – Thursday. You can purchase a $5 Red Rock Day Pass or use an America the Beautiful Pass
Restrooms: Yes
Cathedral Rock Vortex Trail is a 1.2 mile out and back hike with a steep climb at the end that has spectacular views. While this hike is short, it has 741 feet of elevation gain and requires scrambling up rocks.
You need hiking shoes or shoes with great traction. Use a backpack if you plan to carry anything because there are times where you'll need your hands for the climb.
This is an amazing hike for sunrise or sunset. An important note is that parking is an issue here, like all the trails in Sedona.
If you can't find a spot, you can add on to the hike with the Mystic trail, or Baldwin trail to Templeton trail to Cathedral trail instead.
Adding another trail will give you more views and alleviate the parking issue. If you have a fear of heights, this may not be for you. It's also not great for dogs, especially little ones.
Sedona Vortex Hike #5 – West Fork Trail Vortex
Hike: 7.2 mile (11.6-kilometer) Out and back
Elevation: 820 feet (249 meters) 
Difficulty: Moderate
Dogs: Yes on leash
Parking: Yes. Small lot is open from 9:00 am to 5:00 pm. A day pass is $11. 
Restrooms: Yes
The West Fork Trail is a 6.5 mile out and back hike into the West Fork of Oak Creek with towering cliffs and lush vegetation shading your journey.
It's about 10 miles north of Sedona but well worth the effort to get there since it's so different than the other trails in town. It's definitely your best option on a hot day with the shade and water.
Most of the trail is flat but you do have some areas where you have to scramble over rocks as you cross over the creek multiple times. There's also a cool subway portion.
Bring water shoes and trekking poles for the slippery rocks and arrive early to get parking at this popular trail.
---
Sedona Vortex Tours
If you prefer a professionally guided tour, these are the most popular tours. Each has a slightly different focus and while none of them are hiking tours, they do visit some of the Sedona Vortex hiking locations.
2.5 hour Sedona Vortex Tour by Jeep will take you to many of the vortex sites and stunning red rocks view points. It is the most popular Vortex tour and it expands on the information discovered by Page Bryant.
Spiritual and scientific Private Tour goes into more depth about the geology and scientific discoveries of the Sedona Vortex.
Sedona Chakra Vortex tour will take you to some lesser known sites on a half day tour and do a chakra reading. And if you are really looking for a transformative experience, there are multi day spiritual retreats.
You can experience Sedona so many different ways including a fun Outback Trail Jeep Adventure.
---
Our Opinion About the Sedona Vortex
We both felt terrific in Sedona. I felt energetic and happy, with an overall sense of well-being. Guy just said he felt "good." That's men for you. I wanted to write a blog post about my feelings and he had one word!
Here's the kicker, I don't think it was the Sedona Vortex. One of the big things people talk about is the twisted trees. They had twisted trees all over Arches National Park and no energy vortex.
We went to multiple sites where you were supposed to feel the Vortex and didn't. We also asked A LOT of people and no one else felt the Vortex either. However, everyone, including us, said they felt great.
I read that there is a high level of negatively charged ions in Sedona. Perhaps the negative ions are coming from the Vortex. It might explain the euphoric feeling I had the whole time in Sedona. Or, maybe it was just the Christmas vibes!
Christmas in Sedona
The reason we were in Sedona was to avoid a Utah snow storm on our way home. It was the beginning of December and felt overly enthusiastic seeing Sedona lit up for the holidays.
Even if we were under the influence of the Sedona Vortex, Christmas in Sedona is awesome. When we initially drove into town past all the beautiful lights, you can't help but feel the Christmas spirit.
Our first stop was a place called Tlaquepaque that's filled with art galleries and restaurants. This is where Sedona kicks off Christmas with a tree lighting and the Festival of Lights with 6,000 luminarias.
We had the best time checking out all the pretty decor around every corner. You'll also find various Christmas activities if you have kids.
One of the most exciting is the Magical Christmas Journey™ on the Verde Canyon Railroad, a one hour train trip to the North Pole and back.
RELATED POST: 60 Bucket List USA Trip Ideas
Sedona Weather in December
December is a perfect time to go to Sedona. Aside from all the fun Christmas festivities, the weather is temperate, in the low 60s during the day and dips down to the mid-30s at night.
All in all, it's perfect for hiking. Just bring a warm jacket for the evenings. Since Sedona is in the desert, December only has 3-4 days of rain.
If you're lucky, you'll get some snow. Sedona's red rock landscape is stunning in a blanket of white.
Best of all, December in Sedona is much less crowded, so you'll have the chance to do the Sedona Vortex hikes without tons of people.
RELATED POST: Best Places to Travel in December
Where to Stay in Sedona, Arizona
Sedona offers a diverse range of accommodations to suit every traveler's preferences and budget. For those seeking luxury and stunning red rock views, upscale resorts like Enchantment Resort and L'Auberge de Sedona provide world-class amenities and serene surroundings.
Sedona also boasts charming boutique hotels in the heart of town, offering convenient access to art galleries, shops, and dining options.
Here are some great Sedona hotel and resort options:
Luxury: Enchantment Resort (9) – a beautiful resort on 70 acres filled with amenities and 20 minutes from Downtown
Luxury: L'Auberge de Sedona (8.4) beautiful views, luxurious accommodations and spa services
Mid-Range: The Wilde Resort & Spa (8.7) – Stylish, comfortable rooms, onsite pool and restaurant
Mid-Range: Element Sedona (8.6) – Very clean, comfortable, pool and great breakfast
Family: Arabella Hotel Sedona (8.5) – we stayed here, there were lots of kids, a pool and easy downtown location.
Final Thoughts About Vortex Hikes in Sedona and Visiting Sedona at Christmas
Whether you go to Sedona for the exuberant Christmas spirit or any time of year, Sedona is a great place to go and feel good. You'll get lots of fun outdoor time in the most beautiful red rock setting.
You can partake in a Vortex tour, do some energy healing, eat delicious food and just relax. It's a perfect healthy vacation, romantic weekend getaway, adventurous family trip or a stop on a Southwest USA road trip.
The best Sedona Vortex hikes are a great way to explore Sedona and see if you notice anything special. Vortex or not, Sedona is a great destination that's even better at Christmas
Other Posts You Might Like:
Save The Best Sedona Vortex Hikes To Read Later? Pin It!