Planning a trip to LA doesn't have to break the bank. Though famous for its glitz and glamour, some of the best things to do in Los Angeles are free and budget-friendly.
Why listen to me? I was born and bred in Los Angeles. I spent my childhood here, went to college in LA, and raised kids in Los Angeles. I know this city like the back of my hand and want you to love L.A. like I do!
In making this list, I tried to strike a balance between some of the most touristy things visitors want and the local favorite free things to do in L.A.
From exploring the iconic Hollywood landmarks to discovering the hidden gems, the City of Angels offers a diverse range of frugal and free things to do in Los Angeles.
Whether you're a first-time visitor or a seasoned Angeleno, there's something here for everyone to enjoy without spending a fortune.
This post contains affiliate links. If you book or buy something through one of these links, we may earn a commission at no extra cost to you. You can read our full disclosure here.
Planning Your Trip to Los Angeles last minute? Here are the top affordable tours and hotels. You will also find more tips on the 15 Biggest Mistakes to Avoid When Visiting Los Angeles.
TOP EXPERIENCES & TOURS IN LOS ANGELES
AFFORDABLE COOL HOTELS IN LOS ANGELES

tommie Hollywood – modern, hip hotel with rooftop bar and Hollywood Sign views

PRACTICAL INFORMATION FOR LOS ANGELES

Protect your trip with Safety Wing travel insurance.
Check Discover Cars for great car rental prices – a car is very helpful in L.A.
Find the best flight deals to Los Angeles on Skyscanner.
Best Time to Visit Los Angeles
Los Angeles has temperate weather year long, compared to the rest of the country. The best time to visit Los Angeles is Spring and Fall because the weather is typically very comfortable and sunny.
Most rainfall occurs between November to April but it's only about 12-14″ in a given year. Winter temperatures are approximately 68°F (20°C) highs and 50°F (10°C) lows. There are also sporadic sunny, warm days during the winter.
May and June are known to be foggy by the beach earning the nicknames May Grey and June Gloom. Temperatures are pleasant in the 70's.
July through September can be warm in Los Angeles, with temperatures often exceeding 80°F (27°C) by the beach and 95°F (35°C) in the valley with occasional heatwaves. If you love warm beach days, summer is the best time to visit L.A.
One of the most important things to know about the weather in Los Angeles is that the beach cities can be 10 degrees cooler than Downton Los Angeles and 15-20 degrees cooler than the valley.
---
25 Frugal & Free Things to Do in Los Angeles
1. Picnic at the Hollywood Bowl
One of the best activities in Los Angeles is a summer evening at the Hollywood Bowl. Choose an evening filled with classical music, a rock concert, or a campy sing-a-long that you'll never forget. 
Locals know how to do it right. Start your evening with an early picnic dinner either on the lawn or at your seat before the show.
Pack your own picnic or order from many restaurants around town that offer a Hollywood Bowl meal including the restaurant Patina on site. Don't forget the wine, fun picnic decor, and a jacket. It gets chilly at night.
While tickets to the Hollywood Bowl can be expensive, it's possible to enjoy one of the best things to do in Los Angeles on a budget. Save money by packing your own homemade picnic and getting seating on the benches.
2. Spend an Afternoon at the Huntington
The Huntington Gardens are a sight to behold. This world-renowned botanical garden features 16 gardens, each with its own unique appeal. 
The Desert Garden, for example, is home to more than 2,000 species of cacti and other drought-tolerant plants.
The Japanese Garden, on the other hand, features a traditional tea house, koi pond, and beautifully manicured Bonsai trees. 
In addition, there are also art galleries, a library, and a variety of public events held throughout the year.
Admission is free on the first Thursday of every month ($25 regularly).
3. The Perfect Day at the Beach in Point Dume 
If you find yourself in the enviable position of spending some time at Point Dume, congratulations! You are about to experience one of the most beautiful places in Malibu. 
The first order of the day is to hop in the Pacific Ocean for a refreshing dip. Follow it up with one of the best Malibu hikes: the Point Dume trail to Zuma Beach.
With gorgeous water views the entire way, you'll see what hiking in California is all about.
Spend the rest of the day lounging on the beach. There's something special about this place – just take it all in and enjoy!
The best part is your only cost is paying for parking but you can save money by visiting during the week.
3. See to Infinity and Beyond at The Broad Museum
Art museums are often stuffy places, full of rules and hushed tones. But the Broad Museum is different.
This contemporary art museum in downtown Los Angeles is a place where you can let your hair down and enjoy some truly incredible artwork. 
Founded by philanthropists Eli and Edythe Broad, the Broad Museum houses their extensive collection of contemporary art.
Boasting over 2,000 pieces by 200 different artists, including Andy Warhol, Jeff Koons, and Damien Hirst, the Broad is a modern art lovers' dream.
And unlike other art museums, the Broad Museum has no entry fee. So whether you are an art aficionado or a casual admirer, the Broad Museum is one of the best things to do for free in Los Angeles..
Don't miss Yayoi Kusama's Infinity Mirrored room. Get your free tickets in advance on The Broad Website and choose your entry time for the Mirrored Room.
4. Do a Hardcore LA Workout for Free at the Santa Monica Stairs 
Want to hang out with all the LA locals? Put on your earbuds with some Lululemons and hit the Santa Monica stairs for heart-pumping action. 
Be warned, these babies are no joke. There are two sets – the cement stairs and the wood stairs. The wood stairs with 170 steps are more popular. Some people go up one set and come down the other. 
To make it a full-body workout, do some sit-ups and push-ups on the grassy lawn at 4th and Adelaide.
Afterwards, head to Kreation on Montana Avenue for a cold-pressed juice to replenish those electrolytes.
The stairs are free. Juice is organic and worth the cost in our opinion. You can also grab a yummy meal while you're at it.
5. See the City Lights on Mulholland Drive
Mulholland Drive is one of the main arteries of Los Angeles, traversing across the top of the Hollywood Hills and Santa Monica Mountains with killer views.
Take one of the best scenic drives in LA on Mulholland Drive at night. You've seen it in the famous La La Land scene and you need to experience those bright lights, and big city views for yourself. 
The best places to stop on Mulholland Drive:
The Jerome C Daniel Overlook at 7036 Mulholland Drive (shown above)
Mulholland Drive Scenic Overlook – La La Land filming location at 8591 Mulholland Drive
Nancy Hoover Pohl Overlook at Fryman Canyon – 8401 Mulholland Drive
Johnson Overlook – 14851 Mulholland Drive – Beautiful night views of San Fernando Valley
6. Palos Verdes Peninsula
Nestled on the bluffs of the Palos Verdes Peninsula is a little slice of heaven known as the Point Vicente Lighthouse.
This historic landmark was built in 1926 and offers stunning views of the Pacific Ocean. Visitors can also enjoy a tour of the lighthouse, which is open to the public on weekends. 
Just down the coast from the lighthouse is Terranea, a luxury resort with an award-winning spa and five-star restaurants.
If you want to see the views without paying for a hotel room, do the 2-mile walk along the Terranea Discovery Trail. It's easy and absolutely gorgeous.
Another easy one, the Abalone Cove Trail, is popular for hikers and nature lovers. It leads to secluded beaches and tide pools.
The Wayfarers Chapel, a beautiful glass church designed by Lloyd Wright, offers breathtaking coastal views.
There is no shortage of things to do on the Palos Verdes Peninsula, making it a perfect thing to do in Los Angeles.
7. Sunset at El Matador Beach
El Matador Beach in Malibu is one of the most beautiful beaches in Southern California. With its rocky cliffs, crashing waves, and stunning views, it's no wonder that it's a popular spot for beachgoers and photographers alike. 
The best way to access the beach is to park at the north end of Pacific Coast Highway and take the stairs down to the beach. Once you're there, you'll find yourself in a hidden world of tide pools, secluded coves, and dramatic coastline. 
For the perfect sunset, set yourself up at the top of the cliffs. And if you're lucky, you might even spot a whale or two offshore.
Whether you're looking for a place to relax or explore, El Matador Beach is definitely worth a visit. Parking is $8 for the day (valid until sunset) or free on PCH if you can find a spot and walk a bit. 
8. Meditate at the Self Realization Fellowship Lake Shrine
The Self Realization Fellowship Lake Shrine is a Buddhist temple and Los Angeles hidden gem, nestled in Pacific Palisades.
You will be warmly welcomed to one of the Buddhist services with a guided meditation at 10am on Sundays. Or walk around the picturesque property and enjoy the grounds, which are open to everyone. 
Though it may be small, Lake Shrine packs a lot into its 10 acres. In addition to the temple, the shrine is home to a beautiful lake and lush gardens. In addition, the shrine is home to swans, turtles, and even peacocks. 
With so much to offer, it's no wonder that the Lake Shrine is one of the best places to reflect and meditate in Los Angeles.
Make a reservation for free parking and entry at Lake Shrine. The dress code is modest. Children are welcome. Pets are not allowed.
9. Rose Bowl Flea Market 
The Rose Bowl Flea Market is a mecca for shoppers looking for unique treasures and one-of-a-kind finds.
Held every other Sunday, the market features over 2,500 vendors selling everything from antique furniture and new home decor to vintage clothing and jewelry. 
With so many items on offer, there's something for everyone at the Rose Bowl Flea Market. Bargain hunters can find great deals on gently used goods, while those looking for something special can browse the eclectic mix of items on offer. 
Whether you're in the market for a new piece of furniture or just looking to browse, the Rose Bowl Flea Market is sure to have something for you. It's held in the Rose Bowl Parking Lot in Pasadena.
2nd Sunday of the month • $20 for 5 AM entry, $12 for 9 AM entry, children under 12 are free. Open
Other Popular Flea Markets in LA:
Melrose Trading Post – $8, children under 12 are free • Every Sunday • 9 AM — 5 PM
Santa Market Airport Antique Market – $5 • 1st & 4th Sunday • 7AM – 3PM
Silverlake Flea – Free • Every Saturday 8:30 AM-3:30 PM, Sunday 9:30 AM-3:30 PM
10. Tour Film Locations on a Drive Through Hollywood 
The city of Hollywood is the opposite of glitz and glamour. But that doesn't mean you should skip it.
The LA Conservancy has put together free self-guided driving tours around the city of the filming locations of your favorite films. 
In Hollywood, you'll see plenty of Hollywood landmarks like the El Capitan Theater, the Capitol Records Building, and Grauman's Chinese Theater in addition to filming locations for L.A. Confidential and a handful of Film Noir classics.
If you feel like heading over the hill to the San Fernando Valley, you'll see locations for E.T., Back to the Future, and La Bamba.
11. Take a Ride on the Marvin Braude Bike Trail
The Marvin Braude Bike Trail is often hailed as one of the best free things to do in Los Angeles and my whole family would wholeheartedly agree.
Stretching approximately 22 miles along the Southern California coastline, the bike path winds its way through some of LA's most iconic beach communities, including Santa Monica, Venice Beach, Manhattan Beach, and Redondo Beach.
Cyclists can soak up the sun, enjoy the ocean breeze, and explore LA's beach culture as they ride along this well-maintained path. In many areas, there is a pedestrian path running alongside it.
Whether you're a local looking for a refreshing escape or a visitor hoping to get a taste of the city's laid-back coastal lifestyle, the Marvin Braude Bike Trail is one of the quintessential fun things to do in LA for free.
12. Hike to a Nazi Camp in the Santa Monica Mountains 
Nestled in the hills of the Pacific Palisades, Murphy's Ranch was once a self-sufficient commune that attracted a host of Hollywood celebrities in the 1930s.
Today, the ranch is a popular hiking destination, offering stunning views of the surrounding mountains and coastline. 
The 3.4-mile out-and-back hike to Murphy's Ranch is relatively easy, but it does require navigating 524 steps on a steep concrete staircase.
From the trailhead, the path winds through foliage before emerging into an open meadow. From there, it follows a gently rolling ridge until it reaches the ruins of the ranch itself. 
The main house and barn are long gone, but the graffiti-covered powerhouse, shed, and garden remnants remain. Despite its remote location, Murphy's Ranch is a fascinating place to explore, and the hike is well worth the effort.
13. Take a Tour and Have a Picnic at Will Rogers State Park 
Will Rogers State Historic Park is a must-see for any visitor to Los Angeles. The park is home to a beautiful ranch house that was once the home of famed American movie star Will Rogers.
Visitors can take a free guided tour of the house to learn about its rich history or hike the trail to Inspiration Point for stunning views of the Pacific Ocean. 
For those who want to enjoy a leisurely lunch, there are plenty of picnic spots that can be combined with watching a polo match.
You can also take a trail ride or our favorite thing to do is the 2.2 mile (3.5km) easy hike on the Inspiration Point Loop Trail just above the park. It has great views and only 377 ft (115 m) of elevation gain.
Whether you're looking for history, views, or just a peaceful spot to relax, Will Rogers State Historic Park is sure to please. Parking: $12 per car. Open from 8 AM to sunset.
14. Spend the Day in Manhattan Beach 
Going to the beach is one of the best free things to do in LA. Skip the crowds at Santa Monica Pier and go to one of the coolest beach towns in California.
There are so many fun things to do in Manhattan Beach that we wrote a whole blog post about it..
First, take a stroll down Manhattan Beach Avenue. Get a coffee and do a little window shopping on your way down to the pier. There's a small aquarium at the end that's fun for the kids.
Walk The Strand, a 2.1-mile (3.4 km) beach path that also includes Redondo Beach and Hermosa Beach. You'll be able to check out all the cool beach houses along the way.
If you prefer something even more active, ride on the bike path, go surfing, or play a little beach volleyball. Then sprawl out on the sand and soak up some sun. 
In the evening, head downtown for some drinks and dinner. Manhattan Beach has no shortage of great restaurants and bars, so you're sure to find something to your taste and budget.
15. See the End of Route 66 at the Santa Monica Pier
Santa Monica Pier is the end of the line for Route 66, one of America's most iconic highways and bucket list USA trips. The pier has been a popular destination for decades, and it's easy to see why.
With its Ferris wheel, carousel, and arcade games, the pier is a place where people of all ages can have fun. And of course, there's the beautiful Pacific Ocean to enjoy.
Pack sunscreen and a towel for some time on the beach. We recommend keeping your belongings safe from the crowds in an anti-theft backpack.
The pier is also a great place to watch the sunset. If you're looking to stay nearby, here are our favorite Santa Monica Hotels.
16. Have Lunch in Malibu
One of the best lunch spots in Malibu has been operating since 1975. John's Garden serves up healthy sandwiches, salads, and smoothies. We've been eating there since elementary school and it's still as good as ever.
There are picnic tables around a sand area where the kids can play afterward. This place has had a line for the last 30 years. They have it down to a science so you won't have to wait too long.
My favorite is the San Pedro Salad with a scoop of tuna. They have lots of great salads and sandwiches.
The other, equally long-standing restaurant next door is Malibu Mutts Grill for delicious hot dogs. And for those that want lunch with an ocean view, try Malibu Farm at the end of the Malibu Pier.
17. Do a Graffiti Tour in DTLA
If you're looking for an alternative way to see the sights of downtown Los Angeles, then a graffiti tour in the LA Arts District might be just what you're looking for.
The small area between Alameda and First Street by the LA River is bursting with creativity. You can do a free self or guided tour to see some of the best street art in the city.
We did a walking tour with a local artist through LA Art Tours for $18 to learn about the history of graffiti in DTLA, the most noteworthy artists, and how the scene has evolved over the years.
At the end of your tour, grab drinks at Angel City Brewery, delicious tacos at Loqui, or pizza at De La Nonna in the Arts District.
18. Watch Planes and Eat at In-N-Out
For many travelers, the first stop after landing at LAX is In-N-Out Burger. This iconic fast-food chain is loved by Angelenos and visitors alike for its juicy burgers and fresh fries. 
The Double Double is their signature burger and the animal fries are scrumptious. If you are watching those carbs, order protein style for a burger wrapped in a lettuce bun.
In-N-Out also has a secret menu if you feel like doing a deep dive into all things yummy about In-N-Out. 
There's no better place to enjoy an In-N-Out burger than outside LAX Airport, conveniently located near all major terminals.
Order your food and sit on the grassy lawn, where you can watch plane after plane flying right overhead.
19. Griffith Park is Full of Awesome Things to do in LA
With over 4,000 acres of land, Griffith Park is one of the largest urban parks in the country. There is so much space to explore, from hiking and horseback riding to picnicking and stargazing.
For those who love to hike, Griffith Park has over 50 miles of trails to explore – the Hollywood Sign Trail is a must-do. Join a group hike to the Hollywood Sign if you want someone to guide the way.
For horseback riders, Griffith Park boasts over 20 miles of trails that wind through some of the most scenic parts of the park.
And for picnickers, there are plenty of grassy areas to spread out a blanket and enjoy a meal with friends or family.
But Griffith Park isn't just about outdoor activities. The park is also home to the Griffith Observatory, where visitors can learn about astronomy and enjoy breathtaking views of the city and Hollywood Sign. 
There's also the Greek Theatre, which hosts a variety of concerts throughout the year. So whether you're looking for a day of adventure or a night of entertainment, there's sure to be something for you in Griffith Park.
20. See Amazing Architecture (and a Performance) at Disney Hall
If you're looking for things to do in downtown Los Angeles, stop by Disney Hall. It's one of the most iconic buildings in the city, 
The hall was designed by world-renowned architect Frank Gehry, also known for the Guggenheim Museum in Bilbao. 
Disney Hall is the home of the Los Angeles Philharmonic.The building is a work of art, with its sweeping lines and unique facade. 
But what really sets Disney Hall apart is its acoustics. The hall was designed specifically to create the best possible sound experience. 
If you're a music lover, then Disney Hall is definitely worth a visit. In addition to performances, there are free one-hour, self-guided audio tours daily from 10 AM to 3 PM.
21. Stroll the Venice Beach Canals
Venice Beach is home to a network of canals that were built in the early 20th century to create a Venice-like setting, and they remain an important part of the community today.
Although they are not used for transportation anymore, the canals are a popular spot for walking, biking, and relaxing. They are also home to wildlife, including ducks, turtles, and fish.
In addition to being a beautiful and peaceful place, the canals also serve an important environmental role. They help to filter run-off water from the street and prevent flooding.
When you visit, be respectful of the people that live there. While it's a popular tourist attraction, it's also a place that many call home.
22. Getty Villa
Getty Villa is a must-see for anyone visiting Los Angeles. This stunning museum is devoted to the art and culture of the ancient Greeks and Romans, and it houses one of the most comprehensive collections of classical artifacts in the world. 
The Getty Villa is also home to an impressive array of gardens, fountains, and sculptures. In addition, the museum offers a variety of educational programs and events throughout the year. 
Whether you're a history buff or simply looking for a unique day trip, Getty Villa is one of the top free attractions in Los Angeles. Admission to the Villa is free but you need to make a parking reservation in advance. 
23. Hang Out at a Beach Club in Santa Monica
Get the beach club experience without having to pay tens of thousands of dollars to join an LA Beach club. You can spend a day at the Annenberg Community Beach House for free.
You'll have access to the beach volleyball and soccer courts, playground, view deck, courtyard, and splash pad, where kids can play in the water. For a low fee, you can also access the pool.
The Annenberg is the former site of the Sand and Sea Club. It was built in 1929 by William Randolf Hearst for Marion Davies. When the club became city property it was developed to serve the whole LA community.
You can park anywhere and walk in or use their lot for $12. To enter the pool area, it's $10 for adults and $4 for kids.
Other activities available at the club include yoga classes for $20, tours of the Marion Davies guest house, and a visit to the Art Gallery.
One of the best things to do is have breakfast at Back on the Beach right at the same parking lot. You'll sit in chairs on the sand and eat delicious food.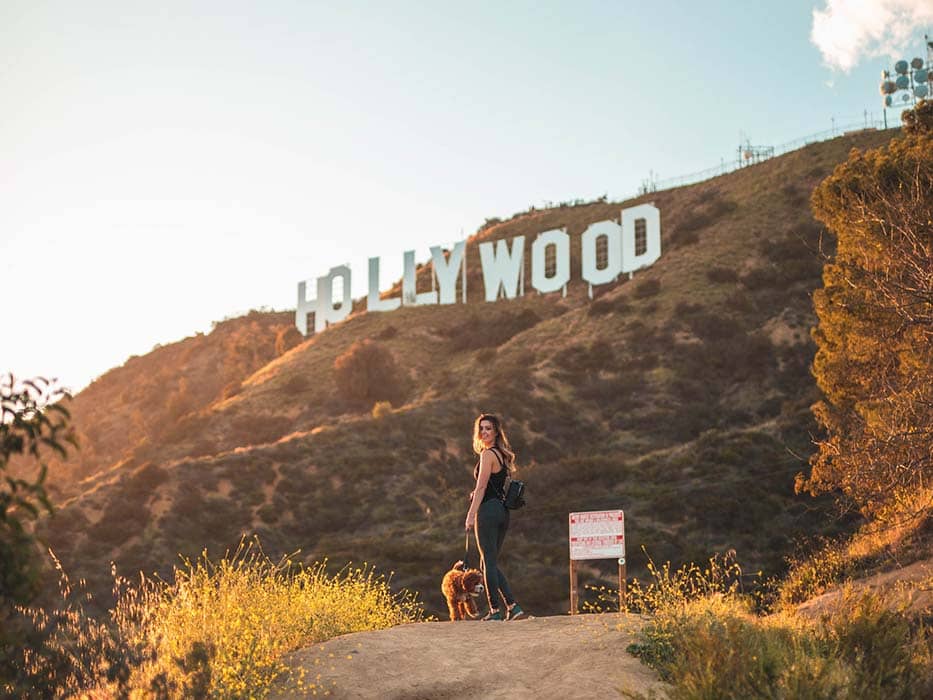 24. Get Up Close & Personal With The Hollywood Sign
Hiking to the iconic Hollywood Sign is an essential adventure for visitors to Los Angeles, offering a unique opportunity to get up close and personal with this famous landmark while enjoying stunning views of the city.
There are several hiking trails that lead to the sign, catering to various fitness levels and preferences. The most popular route is the Griffith Observatory Hike, which provides breathtaking views of both the sign and the city skyline.
For a more challenging journey, the Canyon Drive Trail offers a steeper and less crowded path. Another option is the Brush Canyon Trail, which offers a quieter and more peaceful route through Griffith Park.
If you're looking for a guided experience, you can take a Hollywood Sign Hiking Tour and learn interesting facts about its history and the entertainment industry while you meet other like-minded travelers.
Whether you choose to hike independently or join a tour, a visit to the Hollywood Sign is an unforgettable LA experience that provides a unique perspective on the city's rich cinematic history.
25. Day Trip to Lake Arrowhead
Get out of the sprawling LA metropolis and do a day trip to Lake Arrowhead in the San Bernardino mountains, where the locals head for a weekend getaway. It is one of the best lakes in Southern California to visit year-round.
There are so many fun things to do in Lake Arrowhead from shopping your way through quaint Lake Arrowhead Village, to active pursuits like the Heart Rock hike, waterskiing, and mountain biking.
At night, enjoy dinner at one of the best Lake Arrowhead restaurants, the summer concerts held every weekend, and the star-filled sky. 
The fall colors in Lake Arrowhead and beautiful snowy winters are also worth a visit.
To make a weekend of it, stay at one of these gorgeous designer Lake Arrowhead Airbnbs or head to one of these luxury cabins in Big Bear 30 minutes further.
---
Final Thoughts About the Best Things to do in Los Angeles
Los Angeles offers a treasure trove of incredible experiences that won't cost you a dime. From exploring the iconic Griffith Observatory to strolling along the Marvin Braude Bike Path or Venice Canals, there's no shortage of free things to do in LA.
Save the Best Free Things to do in Los Angeles for later? Pin it!