The border between Southern Utah and Northern Arizona has incredible natural beauty. There are so many fun things to do in Kanab, Utah. It's the perfect place to stay in the middle of it all.
Most people visit Kanab Utah to get a permit for The Wave, a famous hike in Northern Coyote Buttes. That's how we first became acquainted with this small town .
While waiting for our time at the Wave, we took advantage of the various Kanab attractions and the things to do near Kanab Utah. We're sharing the details, so get ready for the coolest trip!
This site uses affiliate links, meaning if you make a purchase through our links, we may earn a commission. You can read our full disclosure policy here.
Planning your trip to Kanab last minute? Here is a quick guide to the tours and hotels we recommend. Our Utah Bucket List, Arizona Bucket List, and How to Get Permits for the Wave offer lots of helpful information.
TOP EXPERIENCES & TOURS IN KANAB, UTAH
BEST HOTELS IN KANAB, UTAH
Weather in Kanab Utah & Best Time to Visit Kanab
We have visited Kanab in every season. Personally summer is too hot for me but the rest of the year is great.
SPRING & FALL
The idea time to visit Kanab in the fall or spring when the average temperature is about 70-80 degrees. Our first trip was for spring break with the kids. It's one of our top recommend USA destinations in March or April.
WINTER
Most winters have an average daily temperature of 54 degrees with some snow, but it doesn't accumulate too much.
The coldest month of the year is January, with an average low of 23 degrees. We were there in January and had both sunny and light snow days.
As long as you have a good jacket, it's great! It's actually kind of nice for hiking. Kanab Elevation is 4,970 feet so it's not like you are going to get the kind of snow that they have in Park City.
SUMMER
Kanab weather in summer is scorching, with some days exceeding 100 degrees. During summer, it is best to schedule physical activities early in the morning or the evening and bring plenty of liters of water.
IMPORTANT: It is absolutely crucial to pay attention to rainy weather. Flash floods are a regular occurrence in Southern Utah. Stay away from any slot canyons or places that are prone to flooding when there is rain in the forecast.
---
How to Get To and Around Kanab & Southern Utah
The biggest airport serving Kanab is Las Vegas. Then the drive is a little less than 4 hours. You can also fly into St. George, Utah, which is 1.5 hours from Kanab.
You need a rental car for this trip. We always check Discover Cars first because they find the best rates and the rental process is easy.
Your other option is a rented Sprinter Van. We booked a rental with Outdoorsy to try out Van Life and found the perfect van right in Utah or Nevada. They also have RVs. Use code Jen50 to get $50 off your first Outdoorsy rental.
---
Best Things to Do in Kanab Utah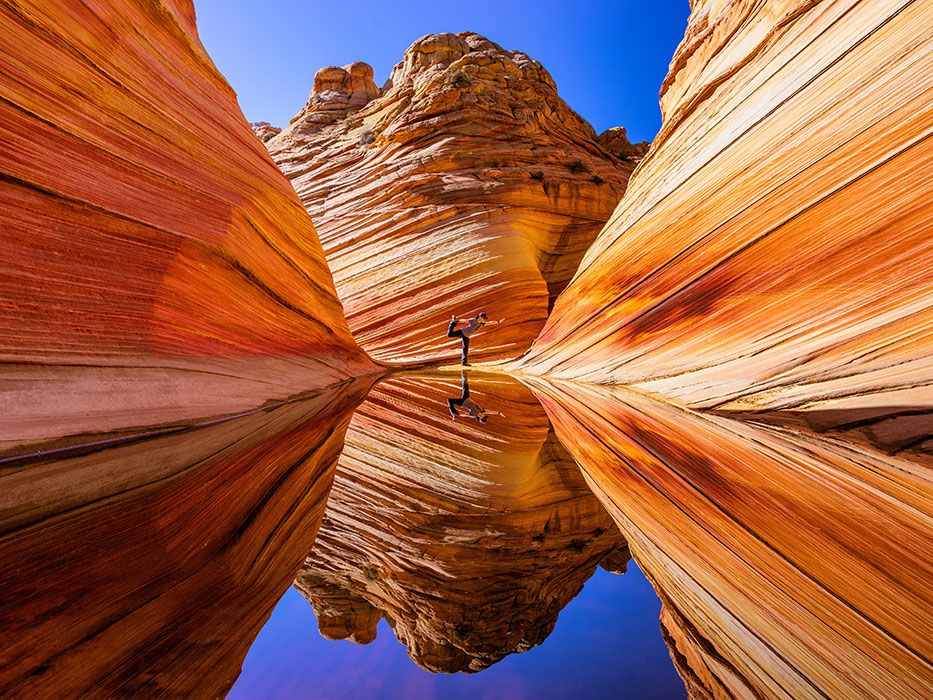 1. The Wave
The Wave is a 5.2-mile round trip hike in the middle of the desert to one of the most spectacular land formations in the United States. It's on every hiker's bucket list.
As part of the North Coyote Buttes region of the Paria Canyon – Vermillion Wilderness area, you need to get a permit in advance or attend the Wave Lottery for a walk-in permit at the Kanab Visitor Center.
Since the permit lottery is held daily, many people station themselves in Kanab, Utah, and take advantage of all the incredible things to do while waiting.
It can take many days to "win" a Wave permit and our How to Win the Wave Lottery post will give you our secrets on what we did to win.
Fee or Permit needed? Yes, both the Wire Pass parking lot fee and a permit required.
Difficulty to reach? Moderately difficult hike with no markers and plenty of soft sand
Appropriate for kids and dogs? Yes, as long as they can travel the distance and there is a permit fee for both
2. Buckskin Gulch
One of the coolest things to do while you are staying in Kanab is starting from the same parking lot in Utah as the Wave. The Wire Pass Trailhead parking area leads to one of the deepest slot canyons in the United States called Buckskin Gulch.
The hike starts with 30-minute walk down a wash before you turn a corner and step into a magnificent slot canyon with 100-foot walls and spots where you can barely squeeze through. Most people just go about a mile into the slot canyon.
If you are willing to make your trek into the canyon about 3 miles before you turn around you will experience so much more of the beauty of Buckskin Gulch. The most adventurous hike is the entire 14-mile canyon on a multi-day backpack trip.
Fee or Permit? Wire Pass Parking lot fee. Permits are only needed for overnight visitors.
Difficulty to reach? Easy to reach, mostly flat hike with one ladder, parts with rocky terrain, and parts with water to trek through. An overnight backpacking trip is more complicated. Very dangerous if it's raining.
Appropriate for kids and dogs? Yes for the day trip version
3. White Pocket Recreation Area
Another great place to visit while you are waiting for a Wave permit is White Pocket. It is like a huge playground in the Vermilion Cliffs National Monument area.
The Navajo sandstone is multicolored in some areas and resembles a white brain in others. As far as landscapes go, I don't think I've visited anywhere quite like it. Bring your camera, and decent shoes, and get ready to have a blast.
It's a 1.5-hour drive from Kanab and does not require a permit. There's one catch though, you need a high clearance 4WD to get there. People get stuck all the time trying to get there because a lot of the drive is in deep soft sand.
This list of 10 Hiking Essentials to Pack for a Day Hike will make sure you have everything you need.
I took a White Pocket Vermillion Tour. In addition to learning a lot about the geology and having someone show me all the cool places, letting someone else do the driving in the deep sand, was a seriously good call.
It was such a fun day and I was thanking my lucky stars the whole way because I never could have made the drive myself. In fact, my guide told me they help people dig their cars out of the sand all the time. You can see the video here.
Fee or Permit? No, unless you take a tour, which is recommended
Difficulty to reach? Difficult drive through soft sand. Only for high-clearance 4WD vehicles and experienced drivers. Once there, light climbing to explore the area.
Appropriate for kids and dogs? Yes, very fun for kids and dogs.
4. Toadstool Hoodoos
When you visit Toadstool Hoodoos for the first time, your jaw will drop. This breathtaking natural monument is located near Kanab, Utah, and can be accessed via an easy half-mile hike.
The towering hoodoos are formed from golden sandstone that has eroded over time to create nature's own Stonehenge. These incredible formations will take your breath away and make you feel like a true explorer as you explore the area on foot or by bike.
All year round, this treasure trove of natural beauty is open to visitors but in winter months there may be snow on the ground so come prepared with appropriate footwear if visiting during these months! There are picnic tables at the site where groups can enjoy lunch or dinner before exploring more of this
Fee or Permit? No
Difficulty to reach? Parking right off the highway. One-mile round trip flat hike.
Appropriate for kids and dogs? Yes, great for kids and dogs on a leash.
5. Coral Pink Sand Dunes State Park
A 30-minute detour, on your way from Kanab to Zion or Bryce Canyon, is a great place to let your inner child loose. The Coral Pink Sand Dunes is a 1,200-acre Utah State Park where you can run free.
You'll find enormous dunes in shades of pink, popular among hikers, nature enthusiasts, and those who love to ride the dunes. Set between Mount Carmel Junction and the town of Kanab, it is another incredible example of the beauty of Utah.
While you are at the park, make sure to try sledding down the dunes – perhaps the most famous activity on the site and one of the best things to do near Kanab. Bring your own sled or rent one at the visitors center, which costs $25 per day.
Fee or Permit? For day use, you will have to pay $10 per vehicle.
Difficulty to reach? Parking right at the dunes. Easy walk up the hill. But it is soft sand so it's kind of a workout.
Appropriate for kids and dogs? Yes, great for kids and dogs on a leash.
6. Moqui Caverns
To see beautiful sand caves right in Kanab, plan a stop at the Moqui Caverns. Even if you have never been to the area, you have probably stumbled upon gorgeous photos of them on Pinterest or Instagram.
The trail is located between the Best Friend Animal Sanctuary and the Moqui Caves (different than the Moqui Caverns), and you won't have any trouble spotting it.
Since the Moqui Caves are located just a 10-minute drive away from Kanab, you can easily squeeze them in between your other travel plans. 
The best time to plan your visit to the gorgeous site is during sunset hours (or a little bit before then). Remember to be respectful and don't add any carvings to the impressive sandstone walls.
Fee or Permit? Free
Difficulty to reach? Easy. Only 1/2 mile round trip hike but one spot where you have to climb over a wall.
Appropriate for kids and dogs? The Moqui Caverns is a great destination for the whole family.
7. Belly of the Dragon Cave
The Belly of the dragon cave was initially created as a water culvert that has become a stunning tunnel you and your kids will love exploring.
To discover the unusual site, you don't need more than 10 or 20 minutes (if there aren't crowds). However, those who wish to keep hiking on the other end of it can do a five-mile walk (round trip).
Since it is not a big distance,  it is manageable for people of all ages and physical conditions. The most challenging part is a five-foot drop down to the tunnel at the beginning of the trail.
The floor is a bit rocky, so be careful where you put your step. Keep in mind that there are no water-fill stations or bathrooms along the trail.
Fee or Permit? Free
Difficulty to reach? This family-friendly hike is easy after you pass the small harder section at the beginning.
Appropriate for kids and dogs? Yes. We suggest bringing a flashlight with you because the tunnel is uneven in some parts.
8. Best Friends Animal Sanctuary
All animal enthusiasts will surely enjoy the Best Friends Animal Sanctuary, home to about 1,700 rescue animals. Nestled in Angel Canyon, it is the perfect destination for those who love to be in nature and amongst furry friends.
In addition to dogs and cats, you will find other animals such as horses, rabbits, burros, pigs, goats, and birds.
These four-legged (and two-legged) friends come from all around the country, mostly from shelters that don't have enough space or resources to take care of them.
If you wish to have a more in-depth experience, you may join a 1.5-hour guided tour. But even if you just hike around the area or volunteer by taking an animal for a walk, it will be a day you won't forget.
Fee or Permit? Free. For $5, you may enjoy a vegan buffet on the property every lunch hour.
Difficulty to reach? Easy. But the area is quite big, so be prepared to walk.
Appropriate for kids and dogs? Kids are welcome to visit and it's a great learning experience. Best to leave your dog at home.
9. Stargazing & Stellar Vista Observatory
Here's a bit of trivia: Kanab, Utah is one of the best places in the United States to see stars. In fact, there are so many stars visible from this area that it has been designated an International Dark Sky Community by the International Dark-Sky Association!
Here's your chance to see some amazing views and take in great stargazing opportunities all year round. You can literally pull over on the side of the road and just look up.
We were completely blown away and the starry sky just outside of Kanab rivaled the sky from the middle of the Sahara Desert. It was seriously amazing!
Fee or Permit? Free
Difficulty to reach? Just look up or go to the observatory
Appropriate for kids and dogs? Kids 10 and up can get instructions on telescope viewing. Leave the dogs at home.
10. Old Paria Townsite
Ready to explore an old ghost town? Then the Paria Townsite should be on your itinerary. The old village once used to be inhabited, but in the late 1920s, it was abandoned. Now, it has become a ghost town that has often been used for movie sets.
Today, there isn't much left in the town except for some stone walls and foundations but it's still cool to see and imagine what life was like when this place was a bustling community in its day.
Another amazing reason to visit is the view of the beautiful multicolored mountains. You can see them on the road to the Wave also but these really showcase the layers of earth and the colors are striking.
It's definitely worth the detour off Route 89 to see this whether you go for the full hike or not.
Fee or Permit? Free
Difficulty to reach? Moderate. The full hike is 8.4 miles round trip.
Appropriate for kids and dogs? If they can manage the distance, both kids and dogs are allowed.
11. Peek a Boo Slot Canyon Kanab
Peek-a-Boo Canyon, also known as Red Canyon is a slot canyon near Kanab (not to be confused with the one near Escalante).
Visiting slot canyons is always super cool but the half-day Peek-a-Boo Canyon UTV adventure, for an off-the-beaten-path excursion, is even more awesome. You'll ride UTVs to a short hike into the slot canyon followed by some sandboarding fun.
Join a tour and catch a glimpse of Native American Ruins, admire the beautiful Hidden Lake, and take in the breathtaking views of the Red Canyon.
Fee or Permit? There is no cost to enter Peek-a-Boo Canyon. The UTV adventure is approximately $130 per person.
Difficulty to reach? Easy. The tour includes only two miles of walking.
Appropriate for kids and dogs? Not really. Pregnant women are also not recommended to join the adventure.
12. Cutler Point
If you have a high clearance 4×4, you can reach Cutler Point (also called the Great Chamber). The hike to get there is an easy 10-minutes but the drive is precarious.
If you make the trek, you'll be richly rewarded with one of nature's most amazing creations: a natural arch spanning 50 feet high and 40 feet wide shaped by wind and water erosion over centuries into what looks like a giant white sandstone horseshoe.
It may look like something out of science fiction but it's actually real and definitely one of the best things to do in Kanab, Utah.
If you're nervous like I am about getting stuck in a remote location, take a Jeep Tour of the Great Chamber and Peekaboo Canyon.
Fee or Permit? Free unless you take the tour where you can do a Jeep Tour to 2 great places.
Difficulty to reach? Easy.
Appropriate for kids and dogs? Yes, but make sure you practice leave-no-trace principles and keep it beautiful.
13. Local Kanab Hikes
Most visitors miss these Kanab hikes but the local trails are such a nice way to start your day with some fresh air and beautiful views.
We did the first hike because we were curious and ended up loving it so much that we did it every day before heading off to bigger adventures. Here are a few of the best Kanab hiking trails.
Tom's Canyon is an easy 3-mile out-and-back hike that heads into a pretty canyon. The K-Hill Trail is also easy at only 3 miles round trip, with nice views of town.
If you are looking for something more challenging, try the 7.6-mile Cottonwood Trail which is lovely during wildflower season.
Lastly, Bunting Trail is a challenging hike with some steep climbs in both directions near the end of the 4.2-mile loop and 1,400 feet of elevation gain.
Fee or Permit? Free
Difficulty to reach? There are hikes from easy to difficult.
Appropriate for kids and dogs? Great for both kids and dogs on the easier trails.
14. Zion National Park
There are 3 National Parks within a few hours of Kanab. Zion National Park is the closest and many would argue that it's the best. It has incredible natural scenery and bucket list hikes.
Angel's Landing has been ranked as one of the best hikes in the entire country because you get a stunning view of Zion Canyon and surrounding areas from the top.
The hike itself is pretty intense but it is worth it for all of the views you will get from being so high up.
The Narrows is a hike through a gorge with walls that top 1,000 feet. You'll get wet but as long as you have the right gear, it's an unforgettable experience. There are many more scenic overlooks and hikes.
It's one of the best day trips from Kanab but you might want to spend a couple of days since there's so much to do.
Fee or Permit? $35 per car for 7 days to enter the park. If you have a National Park Passport, the entry is free.
Difficulty to reach? Easy but some of the hikes are very advanced
Appropriate for kids and dogs? Great for kids except on advanced hikes. Pets are only allowed on paved surfaces and it often gets too hot to leave them in the car. There are boarding kennels in town if you need a safe place for your pet to stay.
15. Bryce Canyon National Park
Bryce Canyon National Park, known for its amazing geological features, is approximately 1.5 hours from Kanab. If you are doing a Utah road trip, this is at the beginning portion of the popular Route 12.
See what Bryce is like in our Van Life Trial to Utah National Parks when we rented a Sprinter van from Outdoorsy.
When you get to the first Bryce Canyon lookout, you'll see the phenomenal hoodoos, which are thin spires of rock that look like they're standing up out of the ground.
Check out Sunrise Point or Inspiration Point where you can see panoramic views over this natural wonderland. Take some snaps, then walk around the trails under the rim to experience the hoodoos up close.
Bryce Canyon has the perfect hiking trail for you. If you only have time for one hike do the 1.5-mile Navajo Loop Trail that will take you past Thor's Hammer and Wall Street. Another great choice is the 1.8-mile Queen's Garden Trail to the Queen's Castle.
Those who want more of a challenge should try the 5.2-mile Peekaboo Loop Trail, where you will be treated to views of the Three Wisemen, the Cathedral, the Wall of Windows, and possibly some horses.
Fee or Permit? $35 per car for 7 days to enter the park. If you have a National Park Passport, the entry is free.
Difficulty to reach? Easy to reach all the rim lookout points, and trails range from easy to difficult.
Appropriate for kids and dogs? It's great for kids. Pets are only allowed on paved surfaces and it often gets too hot to leave them in the car. There are nearby boarding kennels if you need a safe place for your pet to stay while you hike.
16. Grand Canyon National Park North Rim
Paying a visit to the Grand Canyon at least once in your lifetime is a must.
While you are in Kanab, you have the opportunity to explore the beauty of the Grand Canyon by reaching the beautiful and secluded North Rim, which has significantly fewer crowds than other parts of this natural wonder.
Point Imperial (the highest overlook on the North Rim) offers expansive vistas and is the starting point for the Cape Final Trail, an easy 4-mile out-and-back trail through the woods until you get to a breathtaking viewpoint.
There are also overlooks at Cape Royal and Bright Angel Point.
The North Rim of the Grand Canyon is a great destination for people who want to do the rim-to-rim hike, which takes about 12 hours round trip if done without stopping or taking shortcuts.
A friend recently did the rim-to-rim-to-rim! Talk about being insanely fit.
Fee or Permit? $35 per car for 7 days to enter the park. If you have a National Park Passport, the entry is free. During the winter season, if you wish to stay overnight, you need a backcountry permit.
Difficulty to reach? Visitors will find trails for all levels. Winter conditions from November to March have road closures.
Appropriate for kids and dogs? Yes to kids and dogs on a leash although pets are not allowed below the canyon rim. The South Rim has a dog kennel for dog sitting but the North Rim does not.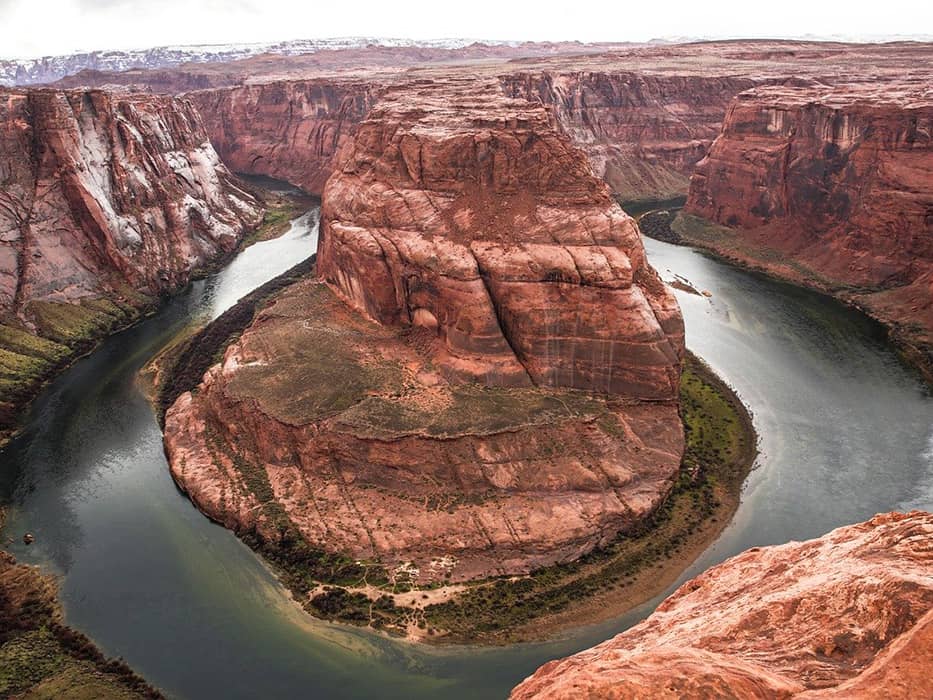 17. Horseshoe Bend
Page Arizona is only one hour from Kanab Utah and you can spend a full day or longer taking in the sights.
The Glen Canyon Recreation Center includes the short easy Horseshoe Bend hike to the canyon's edge for a spectacular view where the Colorado River meanders in a distinctive horseshoe-shaped curve 1,000 feet below.
It's an iconic photo opportunity to capture a geological marvel in the heart of the American Southwest so bring your tripod and wide-angle lens to this one!
Fee or Permit? Parking is $10 per car
Difficulty to reach? It's a 15-minute walk to the viewpoint
Appropriate for kids and dogs? Great for kids. It can be very hot in Arizona so bring Fido to see the view with you.
18. Upper & Lower Antelope Canyon
Antelope Canyon's upper and lower slot canyons are another highlight located in Page, Arizona about an hour away from Kanab, Utah.
Since it's on tribal land, you must take a guided tour but the bonus is that the guide can help you take amazing photos. They know every angle. Lake Powell is another big draw to the area as a favorite spot for boating, fishing, swimming, and hiking.
Fee or Permit? You must take an organized tour to see Antelope Canyon.
Difficulty to reach? The tour will drive you right to the slot canyon entrance.
Appropriate for kids and dogs? Great for kids but dogs are not allowed.
---
Best Restaurants in Kanab Utah
There is nothing worse than getting hangry right in the midst of all action. Luckily, Kanab has plenty of great spots to satisfy your hunger. 
Just a note that some of the places to eat in Kanab Utah listed here can be closed or have limited hours during the winter.
Rocking V Cafe is the best place for a casual dinner. If you are a vegan, make sure to try their Utah Beehive – a juicy yellow pepper loaded with tofu, red beans, and other yummy things.
Wild Tyme Cafe offers fresh, home-grown foods for those who love a fine dining experience.
Peekaboo Canyon Wood Fired Kitchen – the "it" place for amazing artisanal pizza. Try our favorite with marinara, wild mushrooms, and mozzarella – the West World.
Sego –  a true paradise for foodies that offers regional new American cuisine. We suggest trying out Dan Dan Lo Mein – BBQ pork with noodles.
Kanab Creek Bakery should be on your list for the best breakfast and pastries in town. Have a taste of their incredible Pain au chocolat and coffee which are to die for!
---
Where to Stay in Kanab Utah
There are plenty of great places to stay in Kanab. The places below have been hand-picked and represent some of the best Kanab has to offer. Pet-friendly places are denoted with a 🐶.
Hotels
Kanab Suites (9.3) – A cool renovated motel with modern decor. with comfy beds, kitchenettes, and fire pits.
Best Friends Roadhouse and Mercantile (9.5) 🐶 – Stylish getaway that caters to you and your pet with a cute shop, restaurant, and dog park.
Canyons Boutique Hotel (9) – Guests love this quaint hotel with spacious rooms and great service.
La Quinta by Wyndham Kanab (9.0) 🐶 – A centrally located, clean, comfortable hotel with refrigerators and microwaves in each room. One of the nicest chain hotels in town.
Vacation Rentals
RV Park in Kanab
---
Final Thoughts About What to Do in Kanab Utah
The best things to do in Kanab are endless. You can hike, bike, or take a jeep tour into the surrounding national parks for sweeping views of red rock cliffs.
If you're looking for more adventurous fun, try your hand at climbing some boulders or heading out on a UTV adventure through deep sand dunes.
There is always an amazing adventure to be had in Kanab! Check out our Utah Bucket List for even more things to do in this incredible state.
Save The Best Things to do in Kanab? Pin It!
Other Posts You Might Like: